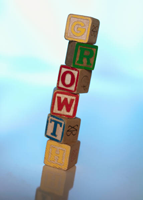 Many of my clients that had been to my old office are aware of the extensive library of personal, professional and spiritual books, tapes, CDs and videos that I have accumulated over the last 20 years. The audio programs tend to be the most useful for me since they are so easy to listen to while I'm driving, cooking or cleaning. Okay, it's true. Watching The Secret with other enthusiasts and a big bowl of popcorn would be my idea of a great evening, but I'm a little passionate. Since I was recently asked the question, I thought I would share with you five of my favorite leaders in the personal development realm.
Anthony Robbins: Personal Power II – Tony Robbins is

the

king in the personal development arena. All his products are great and are typically more expensive than most authors/coaches. A great place to start for making massive changes is with his 30 day audio program called Personal Power II. https://www.tonyrobbins.com/products/personal-achievement/personal-power-2.php. Another great introduction to Tony is his "Unleash the Power Within" seminar. There is one coming up in Los Angeles November 3rd through the 6th. I highly recommend it!
Zig Ziglar: See You at the Top illustrates the impact of having a positive attitude. Success & the Self Image shows the close connection between genuine success and a genuinely healthy self-image. Goals is a step-by-step process for setting and achieving goals. Zig is at his best in front of a live audience so I always recommend the audio recordings. How else can you appreciate his Southern charm and wonderful timing as he communicates these enduring principles? Often quoted for "You can get everything in life you want if you will just help enough other people get what they want"; Zig covers all the bases in this trilogy.
Napoleon Hill: Think & Grow Rich. First published in 1937, it is still one of the best selling business books today. This is a classic! Written by a man born to poverty in 1883, Napoleon not only achieved financial success, but also lived in optimum health most of his 87 years. The book is a blueprint for living a successful life. I also love the audio series called The Science of Personal Achievement. It is peppered with live recordings of Napoleon Hill and I prefer it to the audio of Think & Grow Rich.
Earl Nightingale: Lead the Field and The Strangest Secret. Earl Nightingale was born with an avid desire for knowledge and a passion for sharing it with others (no wonder I like him). Inspired by Napoleon Hill's Think & Grow Rich, Nightingale recorded The Strangest Secret which became the first spoken-word recording to achieve Gold Record status. I love listening to his powerful voice and it's easy to see why he recorded over 7,000 radio programs and 250 audio programs. He was also the co-founder of Nightingale-Conant, the preeminent leader in personal development recordings.
Jack Canfield: The Success Principles. Jack co-authored the Chicken Soup for the Soul series of books so you know he has mastered the art of success. The Success Principles is a 30 day program to transformation. Jack's style is much more low-key than Tony Robbins but still entertaining as well as life changing. If you're on a budget, get the book. Otherwise, get the audio course which is on sale right now for $99 down from $179, a very good investment. http://www.thesuccessprinciples.com/store_the-success-principles-audio.php.
The best over-all resource that I know of for personal, professional and spiritual development recordings is www.nightingale.com. Almost all of those listed above have sample messages that can be listened to at this website. Right now, many of the classics are on sale at 50% off or you can buy 2 and get one free.
I believe business and financial success is built upon a strong personal foundation and personal growth is the cornerstone. Remember, the public library is also a great resource. So, take some action now at moving closer to your goals. Go grow!