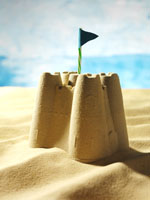 Summer is a great time for new projects that revitalize our lives.  If your spouse or family is creative, you may have a lot of those summer projects that require your time and attention at your home this season.  But what about a summer project for your business?  It could be just the thing to spice up your business and help you rejuvenate your staff and your energy at work.
Here are seven ideas to help you heat things up at work and reap the rewards that result:
Think of your customers as clients. The word customer refers to someone that buys something from you, it's transactional. On the other hand, the word client refers to a larger relationship. The Merriam-Webster dictionary defines it as "one that is under the protection of another". When you start relating to your customers as clients, the relationship evolves beyond the mere exchange of money for product or services. Try it and see the difference.
Move from reactive to proactive. Work on fine-tuning one small area of your business where you're constantly experiencing fires. How can you anticipate and prevent these fires?  It might be putting some procedures in place, training team members, getting help from a vendor, or perhaps even firing a customer that is a pain-in-the-neck.  When you take the first step toward prevention, even if it's a baby one, you've made a tremendous amount of progress toward controlling the situation rather than if you just remained in reactive mode.
Look at one part of your processes and make a small improvement. For instance, the process of answering and directing phone calls for some businesses has greatly deteriorated. The telephone is the company's connection to the outside world and often times its first opportunity to make a good impression. Review and refine your company's telephone etiquette. It may totally change the message you're sending.
Systematize something that's worked in the past and repeat it. No need to reinvent the wheel if you've found the magic formula. Do the magic formula over and over again, perhaps more often, and you'll increase your results. For example, if you're good at getting past the gatekeeper and going directly to the CEO when making your cold sales call, write down the process you're using.  Then do it intentionally 100% of the time and teach it to the rest of your sales team as part of your newly systematized process.
Listen to your clients and roll out a new service offering that they are asking for. A huge part of the battle for getting new clients is getting people to trust you. Why not leverage the people who already trust you – your current clients – and serve them in a new way. Increasing your revenue per client is a great way to help your clients even more and to boost your bottom line at the same time.
Hone your skill. We spend a lot of time working on our core competency – the service we deliver to clients – and getting better at it. Why not get better at another business skill? For instance, a little bit of training on Excel could make a huge difference in how you analyze data (see number 7 below). Or how about Facebook and Twitter? Internet marketing is no longer the future, it's here and social media is an integral part of it.
Measure. How do you know something is working unless you measure it? Add procedures to measure the results that are important to you; then you can begin to see where you need improvements. These include numbers such as revenue, expenses, cash flow, and profits down to the unit you want to measure them. When you do this you'll naturally be able to improve your financial results in your business.
Which one of these projects speaks to you the most? Mark your summer calendar right now to take one step toward working this project into your summer plans so you can heat up your business.