My Dad passed away last month at the age of 91. As a child of the Depression, he was working by the time he was 8 years old and hopping freight trains up and down the West Coast by the age of 10. He dropped out of high school as a sophomore to get work. When he enlisted in the Army Air Corp, his boss fired him so he wouldn't have to re-hire him when he returned from the war.
The men and women who served in World War II returned as heroes, but seldom spoke of their experiences. Until I started attending the reunions of the 73rd Bomb Wing Association with my Dad, I knew very little of his involvement in that war. Ed Lawson of the 500 Bomb Group sent me this upon learning of my Dad's passing:
"He was the aircraft commander of Z Square 34, Frisco Nannie and completed 35 missions. While many air crew personnel received an award of the Distinguished Flying Cross, he received a second DFC with the following citation:
First Lieutenant James R Farrell, 0735068, 882nd, Bombardment Squadron, 500th Bombardment Group, Air Corps United States Army. For extraordinary achievement while participating in aerial flight on 25 May 1945. Lieutenant Farrell was Airplane Commander of a B-29 aircraft which flew from a base in the Marianas Islands on a night bombing mission against the heavily defended city of Tokyo, Japan. En route to the target rapidly changing and adverse weather conditions made navigation extremely difficult and serious mechanical difficulties necessitated excessive fuel consumption. Despite these obstacles, numerous search-lights and intense anti-aircraft fire, Lieutenant Farrell made an excellent radar bomb run and all bombs fell on the target. Immediately after bombs away heavy flak and violent turbulence were encountered and he underwent continuing fighter attacks from the target area to a point one hundred miles out to sea. Attacks by Japanese flying bombs created additional hazards requiring Lieutenant Farrell to employ evasive tactics. His courage and determination in the face of enemy opposition combined with his skill and professional ability which made possible the successful accomplishment of this mission reflect great credit on himself and the Army Air Forces.
Jim had a distinguished career in civilian life and was a popular member of the 73rd Bomb Group Association and the 500th Bomb Group Memorial Association."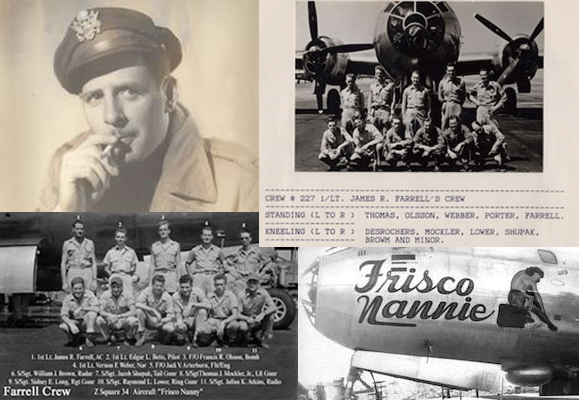 Although not shy, my Dad was a private person and very humble. He was adamant about not having a funeral or memorial service. This is my little tribute to the man who inspired me with his strong work ethic, his positive attitude and unceasing optimism.